I Colli Euganei
A natural reserve only 15 minutes away
The town of Abano Terme is located at the foothills of the Euganean Hills of volcanic origins. The Euganean Hills regional park provides an extraordinary array of opportunities to spend a few hours or full days immersed in nature, among green rest areas in the middle of long hiking trails where it is possible to enjoy just the sounds of nature. A few kilometers from Abano one can also find beautiful golf courses surrounded by the beauty of the hills such as Montecchia golf club and Frassanelle golf club. In April, in addition, two major sport events take place: the Padua marathon that crosses the spa area and the youth international soccer tournament  of Abano.
Are you looking for a spa special offer that allow you also to visit the area?
Staying at the spa, relaxing and have time to travel around to discover the nearby Euganean Hills Natural Park  is a perfect combo for a unique vacation. If you wish to take advantage of our special offers with full board + SPA and treatments, we would recommend you at least a 4-day stays, so that you can have time to:
Relax at our hotel and our thermal pools
Organize your natural field trips along the Euganean Hills park trails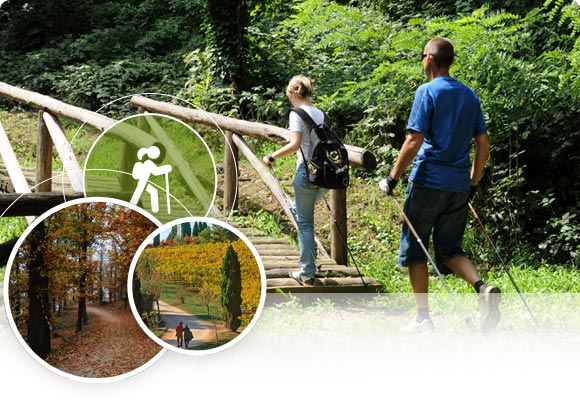 By foot
For those who love hiking and trekking we recommend strolls in the pedestrial area of Abano Terme, with its streets filled with shops and fashionable boutiques. Treed boulevards, several city parks and green areas such as the new urban spa park, the Poggio Montirone o San Daniele Park.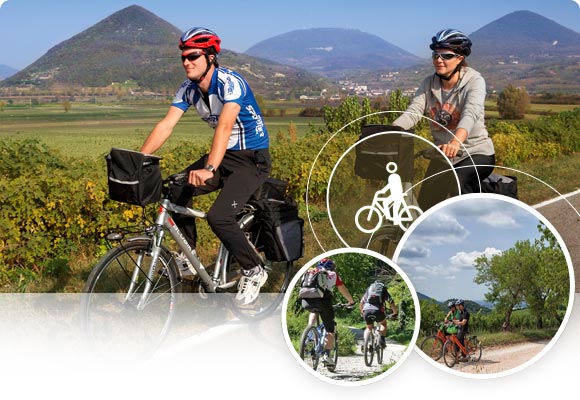 By bike
At Hotel Aurora it is possible to complement your stay with strolls nearby by bike available for free for our guests. In addition to the Abano streets,  parks and beautiful biking trails, we would like to recommend field trips across the Euganean area:
Or in the immediate vicinity at the foot of the Hills:
Per
For sport enthusiasts we inform that there is the possibility to rent mountain bikes (if notified in advance).
Below a list of more challenging routes near Abano and on the Euganean hills:
Ask the hotel reception for field trip suggestions and to get more information on these and so many other trails.