The perfect sweet start to the day, with a rich breakfast and panoramic view
What we offer
Delicious fragrances combine with a vast choice of specialties, both sweet and savory to experience a lively and happy moment.
Breakfast hours
From 7:30 AM to 10.00 AM
The breakfast room is located on the 4th floor. It offers a pleasant view of the town of Abano and the Euganean Hills, and serves guests from 7:30 AM to 10:00 AM.
In the warmer seasons it's possible to enjoy breakfast on the adjacent balcony, benefiting from the fresh air, light and even more of the view.
For a sweet awakening you will be offered a rich and delicious sweet or savory buffet, with a focus on more natural products.
Prepared and served by our staff on the moment are classic hot drinks: espresso, cappuccino and hot chocolate.
All to supply the required energy to face a stimulating day.
The world of good food
traditional and international cuisine
Offered dishes
Let yourself be pleasantly surprised by our Mediterranean cuisine with regional and international dishes of classic cuisine.
Lunch hours
From 12:30 AM to 2:00 PM
Dinner hours
From 7:30 PM to 9:00 PM
Precious Murano chandeliers and glass decorations for games of light that create an atmosphere of conviviality in the restaurant hall.
There is always a buffet of steamed and raw vegetables as well as tasty and varied appetizers with the menu choice of four first courses and three second courses, including fish. Our chefs offer delicious gourmet dinners with themed menus, romantic dinners by candlelight and the chance to taste the delicious typical dishes of the Euganean Hills.
Local recipes and international flavors
The kitchen serves regional dishes with a focus on Mediterranean flavors and fragrances, using DOC Italian products, including the best international recipes, for a nutrition that becomes the expression of a varied and inventive cuisine that combines innovation and tradition.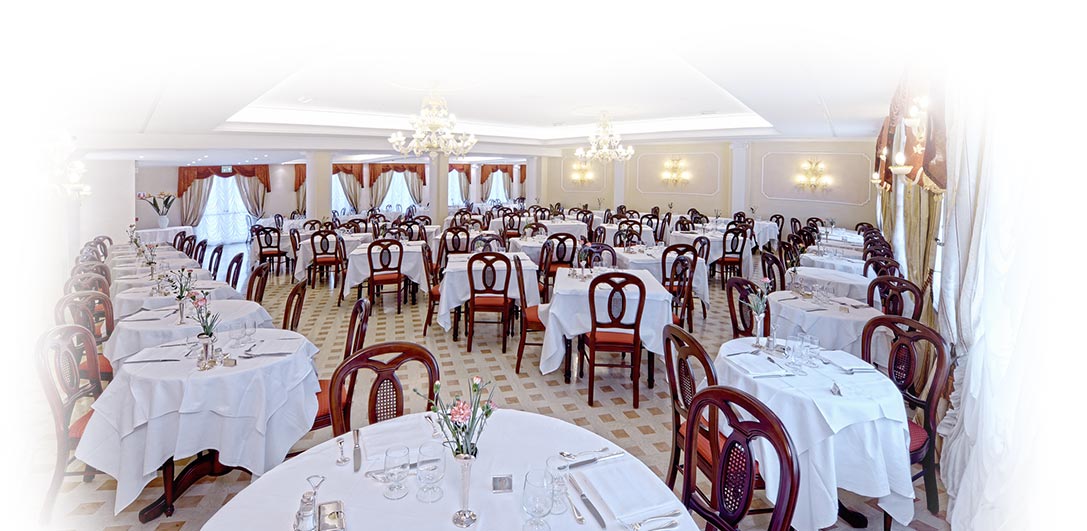 Special dietary requirements?
No problem!
We are careful about the needs of those seeking vegetarian, personalized, or gluten-free diets.